So you want to play college field hockey? Well, congrats on wanting to play at the next level, but this is just the beginning of a long road. Have no fear, here is a guide to help you get started with the basics of recruiting created by Phoebe Hopkins, former collegiate player and coach. She owns and operates Play College Field Hockey and created this blog post to guide aspiring collegiate field hockey players at all levels. Visit her website for more info: http://www.playcollegefieldhockey.com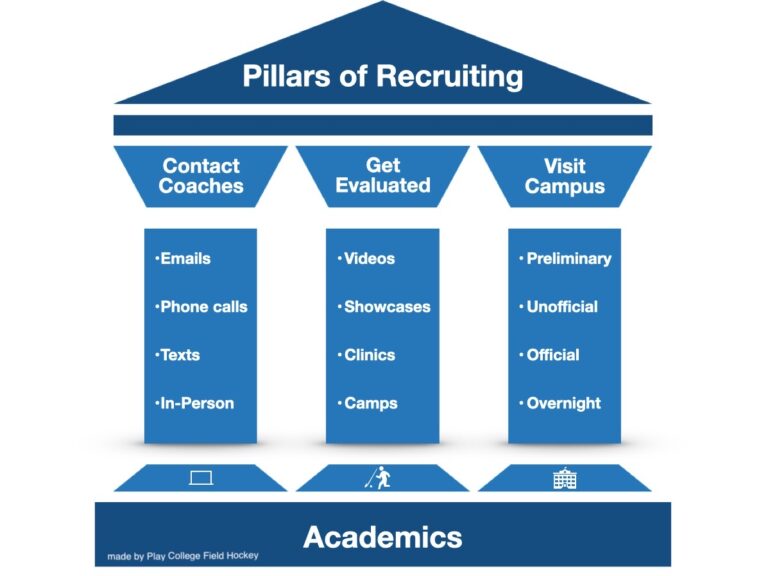 the pillars of recruiting
Step 1: Contact Coaches
Communicating with college coaches is the first step to successful recruitment.  Use emails, phone calls, and even campus visits to build relationships with coaching- let them know who you are and how you can benefit the program.   This is communication is  on-going and requires commitment, consistency, and good communication skills.
Step 2: Get Evaluated
College coaches are always on the recruiting trail.  They attend numerous events each year in order to find players who will be a good fit for their program.  There are three major steps you can take in order to get evaluated— I recommend you do all three:
1) Attend large recruiting events and invite coaches to come see you play.
2) Attend the college camps and clinics of schools that you are interested in.
3) Create a field hockey highlight video and send it out to coaches.
Step 3: Visit Campus
Stepping foot on campus is a great way to figure out if a school is a good fit for you.  Campus visits also provide opportunities to meet with the coaching staff, get to know the current players, and get a feel of what the school and community has to offer.  Prospective student-athletes often make more than 3 visits to the school they end up committing to.  Whether you are on a non-athletic visit, attending a camp/clinic, or are invited on an unofficial or official visit, every time you are on campus is a crucial moment in your recruiting process. 

The National Collegiate Athletic Association (NCAA) is composed of three Divisions:  Division I, Division II, and Division III.  Having a general sense of which Division is right for you is crucial in your recruiting process.  Choosing a school is a two way street because as coaches are searching for the best players for the team, you also need to find a school and program that best suits you.
Remember that you are a student-athlete, so make sure your school has majors, minors, and other programs that you want to pursue. Make a list of schools you like academically, and you may notice that your list of colleges and universities may be composed of schools in each division.  No matter which division best suits you, you will be expected to make a serious time commitment, act professionally, and always compete at your best. 
Division I (78 programs)
Large student-body population
Focus on athletics (offers highest level of play)
Requires the largest time commitment from the student-athlete (including travel)
Offers largest athletic scholarships (a fully funded program has 12 scholarships)
Athletes must meet NCAA academic eligibility requirements
Most competitive rosters
Division II (36 Programs)
Medium sized student-body population
Aims to balance Athletics and Academics
Smallest Division for NCAA Field Hockey
Requires large time commitment from student athlete (including travel)
Offers small to medium athletic scholarships (a fully funded program has 6.3 scholarships)
Athletes must meet NCAA academic eligibility requirements
Competitive rosters
Division III (167 programs)
Smallest student-body population
Focus on Academics with Athletes crucial to student experience
Largest Division for NCAA Field Hockey
Still requires large time commitment, however there is the possibility of playing more than one sport (often less travel)
Cannot offer athletic scholarships
Athletes must meet schools' academic standards
Competitive rosters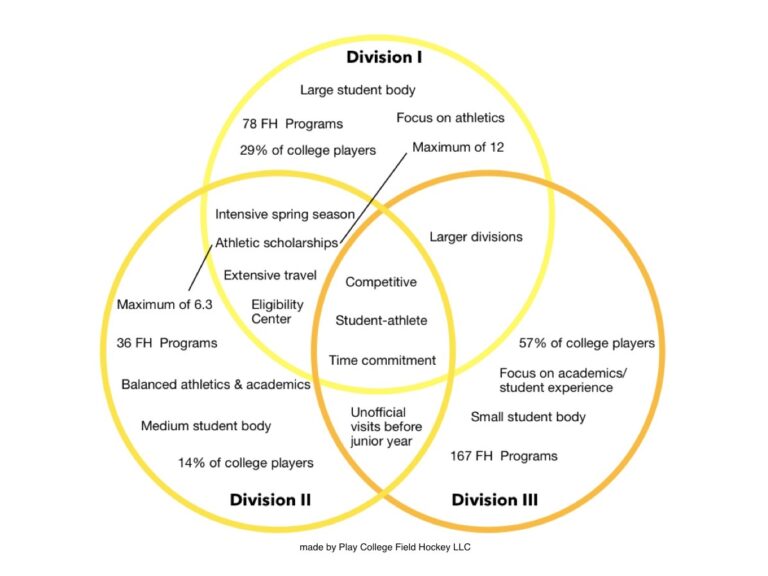 four year recruiting timeline
Freshman Year of High school
Compile a list of schools that interest you (aim for a minimum of 30)
Play club and HS field hockey
Get feedback from your coaches and focus on improving your game
Begin contacting college coaches — you must get on their radar
Consider attending college camps, clinics, as well as national and local recruiting events
Maintain a strong academic record
Sophomore Year of High School
Continue to research colleges and universities
Register with the NCAA eligibility center
Continue to stay in contact with coaches via email — be sure to fill out The Recruiting Questionnaire for each school on your list
Create a recruiting video to send to coaches — film your games or get the video editing services from events you attend
Continue to attend college camps and clinics
Attend national and local recruiting events — ask college coaches to come see you play at each event
Continue to maintain good grades and begin SAT/ACT test prep
Junior Year of High School
Begin to narrow your list and stay in contact with all schools and coaches that you remain interested in — always respond to every coach in a timely and professional manner
Make sure your top choice schools know where they stand
Begin to make official and unofficial campus visits (do overnights when you can) — always arrange to meet with the coaching staff
Continue to attend college camps and clinics
Attend national and local recruiting events — ask college coaches to come see you play at each event
Ask coaches about their recruiting timeline and where you stand on their list
Continue to maintain good grades and take SAT/ACT tests
Depending on the school/Division you may aim to make a commitment in the summer before your senior year
Senior Year of High School
Make sure your top choice schools know where they stand
Continue to make visits and do overnights
Attend camps and clinics
Apply to colleges and universities– always let the coaches know when your application has been submitted
Commit to a school and keep your future coach updated on your hockey schedule and achievements
This article outlines the basics. Visit Phoebe for more information:
These graphics are the sole property of Play College Field Hockey LLC